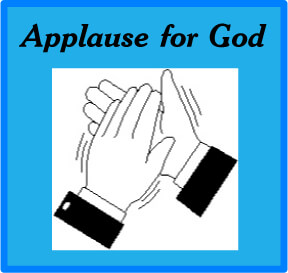 The Scripture Lady loves creating Bible object lessons for kids! Here is one called "Applause for God."
Have you ever seen a show that made you jump to your feet for a standing ovation?  I have.  I have seen many wonderful talented people over the years, but no one's talent can compare to God's glory.  Actually, God is the one who deserves all the applause.  Psalm 29:2 says this: "Give unto the Lord the glory due unto His name." Here is a fun Bible object lesson to help them learn this truth.
Bible object lessons for kids will help the Bible's truths come to life and for this one you will need to do the following:
The object you will use for this lesson will be a recording of lots of applause and cheering.  You can find a free recording of this by Googling: free recording of applause.  There will be many to choose from.
Ask the following questions to help stimulate discussion:
1.     I am going to play a recording of a sound.  Can anyone tell me what it is?  (Wait for responses.)  That's right.  It's applause.
2.     When do we give out applause?  (Wait for responses.)  Usually we applaud people when they do something really great and wonderful.
3.     Have you ever applauded God?
4.     Ask a child to read Psalm 29:2.
5.     Let's learn a little more about this Scripture and learn how to apply it to our own lives.  Here are 3 important points.
Point 1: Giving glory to God is kind of like applauding God and praising Him for who He is.  God is full of everything that is holy, good and lovely.  He is glorious!  What are some other things that God is full of?  (Wait for response.)
Point 2: Sometimes we applaud and praise our friends.  That's OK, but never ever forget that everything good and wonderful about you or your friends only comes from God.  There's nothing that you have that God did not give you.
Point 3: So, be careful to be humble before God.  In other words never ever think you are better than God.  Philippians 4:13 says that you can do all things, but only because Jesus gives you the strength to do them.  There's nothing wrong with receiving applause and encouragement from your friends.  But when you do, be sure to thank God for the blessings He's given you and give Him all the glory due His name.
This 3-Point Bible Object Lesson for Kids was inspired by my reading of C.H. Spurgeon's devotional on Psalm 29:2 from his book Morning and Evening.  You too can be inspired by your favorite Christian authors and come up with your own 3-Point Sermon for Kids.
If you liked this Sunday School/Homeschooling idea, then sign up to receive Scripture Lady's Free Email Kid Tips packed full with creative ideas and receive 6 FREE Bible Review Games to help get the kids you minister to excited about the Bible! Just go to www.MyFreeBibleGames.com to fully subscribe.
Also, don't forget to "LIKE" me on Facebook. Just click on my Facebook logo to the right. Thank you!
If you're into Twitter, click on the cute little bird!
"Peace I leave with you; my peace I give to you. I do not give as the world gives. Do not let your heart be troubled and do not be afraid."
John 14:27