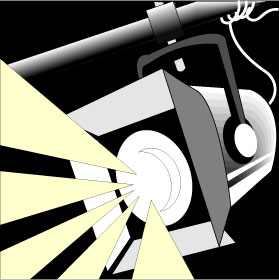 Bible verse games are great for preschoolers too! Here is one on 1 John 3:1 called "You're in the Spotlight."
Most preschoolers love to be in the spotlight.  It's not until we get older that some tend to be very shy.  I think God has His "spotlight" on us at all times.  He loves us so much that I doubt He can ever take His eyes off of us.  God calls us His own, His friend and His child.  I John 3:1 says this:  "How great is the love the Father has lavished on us, that we should be called children of God."  Here is a fun Christian preschool activity to help your little ones learn this important truth.  I call it "You're in the Spotlight".
Getting Ready:
Bible verse games are fun and for this one you will need to prepare a balloon for each child with its name on it.  Do this by printing their name on an uninflated balloon.  Once it is blown up, the name will be big and expanded.  Also, write a small number on each balloon to identify whom it is.  Place all the uninflated balloons into a bag or basket from which the children will pick.  The other thing you need to do is to find out 4 to 5 interesting facts about each child. You might do this by asking the child's parent such questions as:
1.  What is your child's favorite food?
2.  What is your child's favorite TV show?
3.  What is your child's favorite place to go?
4.  What is something funny that happened to your child?
5.  Where was your child born?
Create index cards for each child with their information.  Place the same number on the index card that was on the child's balloon.  This is for teacher's use only.  You are now ready to play this activity.
How to play:
After introducing I John 3:1, pick a child to come and choose a balloon out of the bag.  You, the teacher, will check what number is on the balloon.  Find the card with matching information for this child.  Now begin sharing the pieces of info as follows:  "I am going to tell you about someone in our class who is a child of God.  His favorite food is ___________.  His favorite place to go is ___________. "  Continue with this line of speaking and give out all of the information you have.  After you are done, ask the children if they know whom you were speaking about.  At this point, blow up the balloon so that everyone can see the name of the child.  Say the following: "Look!  I was talking about _________!  He/she is a child of God.  God loves him/her very much.  Let's give him/her a big hand!"  (Wait for children to applaud.)  Give the child the balloon and then pick a new child to choose a new balloon.
Here is fun way to introduce the lesson:
Did you guys know that God loves each one of you very much?  He does.  He is your Father and you are His children.  There is a Bible verse in the book of First John, chapter 3 verse 1 which says: "How great is the love the Father has lavished on us, that we should be called children of God."  God loves you so much that He knows everything about you.  We are going to play a game to help us learn more about each other and God's love for all of us.  It's called "You're in the Spotlight".
Just in case you're interested, you might want to check out this book with even more Bible lessons for your kids: All-in-one Bible Fun: Stories of Jesus, Preschool: 13 Lessons for Busy Teachers
If you liked this Sunday School/Homeschooling idea, then sign up to receive Scripture Lady's Free Email Kid Tips packed full with creative ideas and receive 6 FREE Bible Review Games to help get the kids you minister to excited about the Bible! Just go to www.MyFreeBibleGames.com to fully subscribe.
Also, don't forget to "LIKE" me on Facebook. Just click on my Facebook logo to the right. Thank you!
If you're into Twitter, click on the cute little bird!
"How great is the love the Father has lavished on us, that we should be called children of God."
1 John 3:1
(Click here for a sample of this Bible verse song.)