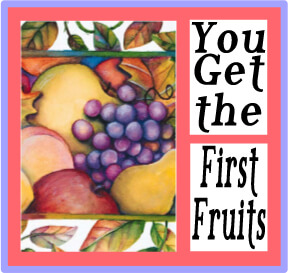 The Scripture Lady loves creating Bible object lessons for kids! Here is one called "You Get the First Fruits."
Have you ever thought how generous God is to His children?  Romans 8:23 says that He has given us the first fruits of His Spirit.  He doesn't give out leftovers to His family.  No, Siree!  He gives us the best of the crop. Here is a fun Bible object lesson to help your kids learn this truth.
Bible object lessons for kids will help the Bible's truths come to life and for this one you will need to do the following:




The object you will use for this lesson will be a batch of homemade cookies.
Ask the following questions to help stimulate discussion:
1.     What am I holding?  (Hold up the pan or box of cookies.  Wait for responses.)  That's right.  These are some cookies.
2.     These cookies are very special.  Do you want to know why they're special?  (Wait for response.)  They are special because I am letting you guys have the first pick of them.  My family didn't get to have even one of them.  They can have what's left over after you have had your share.  In other words, you guys get the "first fruits" of these cookies.
3.     Ask a child to read Romans 8:23.  Hmm.  There's that word again – first fruits.  This is an interesting verse that we need to look at a little closer.




4.     Let's learn a little more about this Scripture and learn how to apply it to our own lives.  Here are 3 important points.
Point 1: God likes fruit.  There are lots of verses in the Bible that talk about fruit.  But the kind of fruit that God likes best is not apples or oranges or bananas.  God's favorite fruit is the fruit of the Spirit.  "What is the fruit of the Spirit?" you may ask.  Well, Galatians 5:22 says "the fruit of the Spirit is love, joy, peace, patience, kindness, goodness, faithfulness, gentleness and self-control."  But today's verse talks about something really special – the first fruits of the Spirit!
Point 2: Picture in your mind a wonderful farm filled with wonderful fruits and vegetables just waiting to be picked.  Now picture Jesus going out into the field picking a basket full of each kind of food and then giving all of that great food to you before He gives some to anyone else.  Jesus just gave you the first fruits or the first pickings of His harvest.
Point 3: Now, picture in you mind that those baskets that Jesus gave you are not filled with fruits or vegetables, but with things like His love, His forgiveness, His faith and His hope.  The first fruits of the Spirit are very special.  What God gives us now is just a small portion of what awaits us in Heaven. There, His love and faith will never run dry in our hearts.  So, thank God for all the wonderful fruit of the Spirit in your life and remember there's more on the way.
This 3-Point Bible Object Lesson for Kids was inspired by my reading of C.H. Spurgeon's devotional on Romans 8:23 from his book Morning and Evening.  You too can be inspired by your favorite Christian authors and come up with your own 3-Point Sermon for Kids.
If you liked this Sunday School/Homeschooling idea, then sign up to receive Scripture Lady's Free Email Kid Tips packed full with creative ideas and receive 6 FREE Bible Review Games to help get the kids you minister to excited about the Bible! Just go to www.MyFreeBibleGames.com to fully subscribe.
Also, don't forget to "LIKE" me on Facebook. Just click on my Facebook logo to the right. Thank you!
If you're into Twitter, click on the cute little bird!
"Surely, your goodness and love will be with me all of my life. And I will dwell in the house of the Lord forever. Amen!"
Psalm 23:6