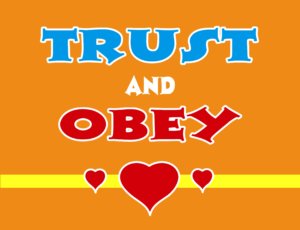 Here is a fun game about teaching preschoolers to obey God. I call it the "Trust and Obey" game.
Teaching preschoolers to obey God should begin at a very young age. As a parent or caretaker you are already instilling in your little ones the need to obey your directions. Teaching them to also obey God is a natural progression in their spiritual development.
Learning to obey God is difficult for all of us. Our old sin nature can rear it's ugly head and demand our own way. We can find ourselves questioning God's direction in our lives. But if we begin to learn God's love and care for us at a very early age, then I believe God can use this training to lead us into His desire for our "abundant living." (John 10:10)
In my newest program, "Tricky Tricksters and True Blue Trusters," (Click HERE for more info about my "Tricky Tricksters" song) I introduce the idea of obey God by playing a sweet and easy game called the "Trust and Obey" game. I open up this segment about teaching preschoolers to obey God by saying that the children need to be good listeners. They need to learn how to hear what God is saying to them through His Bible and the Holy Spirit. I explain that God wants us to follow His directions.



What you need for the game:
a sturdy box that a child can stand on
the set of directions I have provided for you below
the poster to the chorus of the song
the poster to place on the box
How to play the "Trust and Obey" game:
I use the tune from the "If You're Happy and You Know It" song.  You will have a child come and stand on top of the box. This makes the preschooler feel very special. You tell the child that you are going to give him some directions and that he has to follow them. I say, "God wants us to be good listeners and obey what He tells us to do. So I think that if you can listen and do what I tell you to do, then you can also learn to listen to God and do what He says."




At this point, sing the chorus to the song so that all the kids can learn it and sing along with you at the end of each set of directions.
I actually have all the children stand up and follow the directions, but everyone should get a turn to stand on the box.
I have provided you with 5 sets of directions below as a kick starter for you to come up with your own.
Print the box poster and attach it to the front of the box.
Print the poster to the chorus of the song ready to show the children. Your preschoolers probably can't read, but they are learning and I always like to show them words to help them get used to the idea of reading.
That's it! Super easy and your preschoolers will love it!
Click HERE for the set of directions page one.
Click HERE for the set of directions page one.
Click HERE for the poster to place on the box.
Click HERE for the poster to the chorus of the song.
Looking for some GREAT Bible Review Games for your kids? Then check out The Scripture Lady's Best Seller: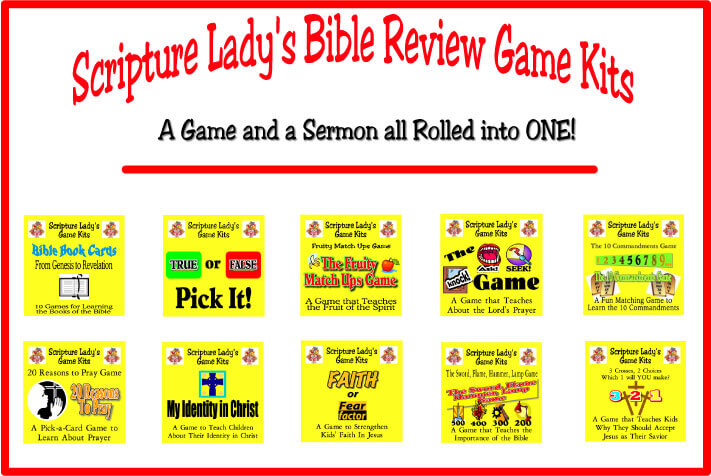 If you would like Kathy to creatively share the Bible with YOUR kids, please contact her via email at thescripturelady@gmail.com.
If you liked this Sunday School/Homeschooling idea, then sign up to receive Scripture Lady's Free Email Kid Tips packed full with creative ideas and receive 12 FREE Bible downloadable resources to help get the kids you minister to excited about the Bible! Just go to www.MyFreeBibleGames.com to fully subscribe.
Also, don't forget to "LIKE" me on Facebook. Just click on my Facebook logo to the right. Thank you!