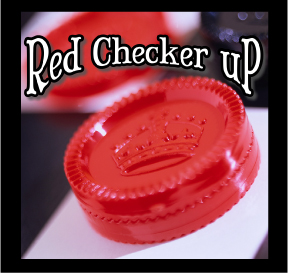 My mom loves me. My Dad loves me.  My husband loves me.  I have quite a few people in my life who love me, but none of them can free me from my sins.  Only Jesus can do that and for this I will be eternally grateful. Revelation 1:5-6 says this:  "…To Him who loves us and has freed us from our sins by His blood…be all the glory and power forever!  Amen."  Our kids need to begin realizing that God's love for them is complete and includes the forgiveness of their sins.  He truly does deserve all the glory and power forever and ever.  Here is a fun Bible school activity to help your kids learn this wonderful Scripture.  It's called "Red Checker Up".
Here's what you do:
For this game you will need to go buy a cheap checker set.  I found mine at my local dollar store.  It comes with 24 checkers – 12 red and 12 black.  Securely glue all 12 red checkers to the backs of the black checkers.  You will also need a bucket or bag in which to put all the checkers.  In addition, you will need to display a list of the following portions of Scripture:
 To Him who loves us
 and has freed us from our sins
 by His blood
 be all the glory and power
 forever! Amen.
Come up with a way to cover each portion.  For example, if you write your list on a board, prepare 5 pieces of construction paper that you'll tape over each of the lines. Finally, you will need a cookie sheet or flat tray of some kind.  You are no ready to play this game.
How to play:
Divide your class into 2 teams.  After introducing Revelation 1:5-6, have a child from team one take the bag of checkers and pour them out onto the tray.  For every red checker that is face up, the child must say that number of portions starting with Scripture portion number one.  For every portion said correctly, the child's team will earn 50 points.  At the beginning of each round of play, cover up all 5 portions of the Scripture.  Unveil each line of the bible verse after he says it correctly for as many times as there are red checkers.  If the child has more than 5 red checkers, the child will earn an additional 50 points for those red checkers only if he says all 5 portions correctly.  For example, if the child pours out 8 red checkers, he has the potential of earning 400 points for his team if he says all 5 portions of Revelation 1:5-6.
Before playing you might want to introduce the lesson in the following way:
Tell me some of the people in your life who love you.  (Wait for responses.)  Can any of those people free you from your sins?  (Wait for response.)  If you said, "No", you are absolutely right.  There is only one Person who can free you from your sins.  Who is this person?  (Wait for response of "Jesus".)  That's right.  Who would like to read our Bible verse today?  (Wait for a child to read Revelation 1:5-6.)  Today, we are going to play a game to help us learn this great verse called "Red Checker Up!"  Let's play!
At this point, recite Revelation 1:5-6 several times to help your children get familiar with the Scripture and its portions.
If you liked this Sunday School/Homeschooling idea, then sign up to receive Scripture Lady's Free Email Kid Tips packed full with creative ideas and receive 6 FREE Bible Review Games to help get the kids you minister to excited about the Bible! Just go to www.MyFreeBibleGames.com to fully subscribe.
Also, don't forget to "LIKE" me on Facebook. Just click on my Facebook logo to the right. Thank you!
If you're into Twitter, click on the cute little bird!