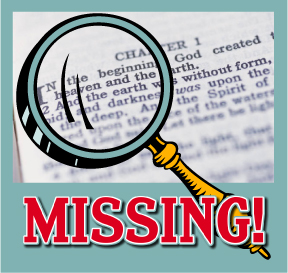 Titus 2:5 is my ministry's theme verse:  "…so that no one will malign the Word of God."  The word malign means to speak about someone or something in a "spitefully critical manner."  (dictionary.com)  It is my goal with my ministry that every song or game I write would encourage a desire and love for God's Word.  I believe with all my heart that God's Word is living and active and should be carefully respected at all times. As for me, I never want to leave out anything important when teaching His Word or have somebody find something "missing".  Here is a fun Bible school activity to help your kids learn a little more about Titus chapter 2 along with some favorite Bible stories.  It's called "Missing".
Here's what you do:
For this activity you will need to prepare 12 Bible story pictures.  You will cover up or cut out something important from the picture.  For example, if you are showing a picture of Noah's Ark after the flood, you might cover up the rainbow.  I have given you a list of Bible stories you might choose down below.  Next, prepare one of each of the following point cards: 100, 200, 300.  Place these in a basket or bucket from which the children will pick.  Finally, you will need the Bible review questions on character found below.
How to play:
Divide your class into 2 teams.  Introduce and read Titus 2:2-8.  After discussing the different characteristics of the people in the verses, explain that you will take turns picking a child from each team to come forward and answer a Bible review question on character.  If they give the correct answer, they will then choose a Bible story from your hand.  Show the picture to the class and say the name of the story.  The child will then be given on 10 seconds to guess what important thing is missing from the picture.  If he guesses correctly, he will then get to reach into the point basket and pick a card, which will reveal the number of points he earns for his team.  Place the point card back in the basket.  Play goes to the next team. The team with the most points at the end of the game wins.
Bible Review Questions on the Character Traits Found in Titus 2:2-8
1.     Titus 2:2 says this:  "Teach the older men to be temperate…"  The word temperate means to not go to the extreme, but to be careful in what you say and how you live your life.  Jesus wants us to be a shining light to all those around us, but lets be careful that we don't "blind" them with a lack of self-control in any area of our life.
As Christians, we should be (careful or not careful) in what we say and how we live our lives.
2.     Titus 2:2 says this:  "Teach the older men to be…worthy of respect…"  Respect must be earned.  And the way we can earn respect is by living the way God would have us live.  For example, we need to be kind and loving to all we meet.
As Christians, we can earn respect by living the way (the Queen of England or God) wants us to live.
3.     Titus 2:2 says this:  "Teach the older men to be…self-controlled…"  To be self-controlled means to be able to control your emotions and desires especially during difficult circumstances.  For example, we often want or desire things that aren't right or good for us.  We must use self-control to say "No" to these things.
I should use self-control especially when circumstances are (easy or difficult).
4. Titus 2:2 says this:  "Teach the older men to be…sound in faith…"  Faith is believing in God even though we cannot see Him with our eyes.  Sound faith is a faith that is healthy and strong.  If we find that our faith or belief in God is weak, we can go to Him and ask Him to make our faith stronger.
If our faith is weak, we can ask (God or Superman) to make it stronger.
5.  Titus 2:2 says this:  "Teach the older men to be…sound in… love…"  1 John 4: 7 says this: "Dear friends, let us love one another, for love comes from God."  Let us always remember that true love only comes from God.  And if you don't know God, you really have not experienced true love.
Love comes only from (Santa Claus or God).
6.  Titus 2:2 says this:  "Teach the older men to be…sound in… endurance…"  To have endurance means that you are strong enough to last through difficult situations.  Life can get pretty hard sometimes, but God wants us to stay strong in Him in all we do.
Endurance means that I should (give up or stay strong) in difficult situations.
7.  Titus 2:3 says this:  "Likewise, teach the older women to be reverent in the way they live…"  To be reverent means to show deep respect.  As Christians, we need to be very respectful to all we meet and in the work we do.  For example, if you are on a soccer team, you should be super respectful to all your teammates and do your very best.
As Christians, we need to be respectful and (do our very best or be lazy).
8.  Titus 2:3 says this:  "…teach the older women…not to be slanderers…"  To slander someone means to tell a lie about them that hurts their reputation.  God never wants us to tell lies and He especially doesn't want us to say things that could hurt other people.  We should always tell the truth.
God always wants us to (lie or tell the truth).
9.  Titus 2:3 says this:  "…teach the older women to…teach what is good."  Did you know that everyone is a teacher?  Sure, you might not have a class of students, but all of us teach something to someone at one time or another.  For example, you might teach your friend how to bat a ball or you might teach your little sister how to read.  Whatever you teach, make sure it's good and true and right.  This will please God.
When I teach something, I need to make sure it is (wrong or good).
10. Titus 2:4 says this:  "Then they can train the younger women to love their husbands and children…"  Believe it or not, many of you will get married one day.  You will be a husband or a wife.  You might even have children.  If you do get married and have children, God wants you to love them with your whole heart.  If you do, you and your family will be blessed.
If I get married someday, I need to (love or ignore) my husband or wife.
11.  Titus 2:4 says this:  "…train the younger women to…be busy at home…"  Someday you will have your own home.  It takes a lot of work to keep a home nice.  You can practice having a nice home someday by pitching in and keeping the home you have now neat and clean and pleasant to live in.
Keeping a home nice (takes a lot of work or is easy to do).
12.  Titus 2:7 says this:  "In everything set…and example by doing what is good."  God is always good.  God wants us to be good also. He knows that if we choose to do good in our lives we will be blessed and will also be a good example of what it means to be a Christian to our friends, family and neighbors.  Then maybe they will follow God too.
God wants me to set a (good example or bad example) with my life.
List of Bible Stories
1.  Tower of Babel – Missing: the tower
2.  Lot Fleeing Sodom – Missing:  his wife
3.  Abraham Offers Isaac as a Sacrifice – Missing: Isaac
4.  Jacob Dreams of the Ladder to Heaven – Missing: the angels
5.  Joseph Dreams of the Son, Moon and Stars – Missing: the son
6.  Joseph's Brothers Throw Him in a Well – Missing: Joseph
7.  Moses is Found by Pharaoh's Daughter – Missing: baby Moses
8.  God Speaks to Moses Through a Burning Bush – Missing:  the bush
9.  David Sings to King Saul on His Harp – Missing:  the harp
10.  David Slays Goliath – Missing:  Goliath
11.   Elijah is Fed by the Ravens – Missing: the ravens
12.   Elijah is Taken to Heaven in a Chariot of Fire – Missing:  Elijah
Suggestion:  Before playing the game, I would show a copy of each of the pictures BEFORE  they saw the picture that had the missing part.
If you liked this Sunday School/Homeschooling idea, then sign up to receive Scripture Lady's Free Email Kid Tips packed full with creative ideas and receive 6 FREE Bible Review Games to help get the kids you minister to excited about the Bible! Just go to www.MyFreeBibleGames.com to fully subscribe.
Also, don't forget to "LIKE" me on Facebook. Just click on my Facebook logo to the right. Thank you!
If you're into Twitter, click on the cute little bird!