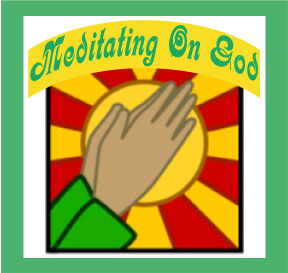 The Scripture Lady loves creating Bible object lessons for kids! Here is one called "Meditating on God."
Genesis 24:63 says this:  "Isaac went out to meditate in the field at the eventide."  What do you think Isaac might have meditated on?  My bet is that He was thinking about God and his prayer for a wife.  Meditating can be kind of a big concept for your kids to grasp, but it is definitely one that they should be introduced to. Here is a fun Bible object lesson to help them learn this truth.
Bible object lessons for kids will help the Bible's truths come to life and for this one you will need to do the following:
The object you will use for this lesson will be a pack of gum.  Change the label on it to read "Meditation Gum".  Have enough gum for every child to chew a piece.
Ask the following questions to help stimulate discussion:
1.     What am I holding?  (Wait for responses.)  That's right.  It's a pack of gum.  Who would like a piece?
2.     After I give you the piece of gum, are you going to swallow it right away or are you going to chew it for a while?  (Wait for responses.)  Of course, we are going to chew it and get every last bit of flavor out of it.
3.     Did you know that chewing a piece of gum is a lot like meditating on God and His Word?
4.     Ask a child to read Genesis 24:63.  This Bible verse shows how Isaac took time to meditate in a nearby field.
5.     Let's learn a little more about this Scripture and learn how to apply it to our own lives.  Here are 3 important points.
Point 1: What is your favorite food?  Pizza, ice cream, mac and cheese?  Have you ever chewed your favorite food very slowly so that you can taste every wonderful bit and bite of it?  Well, enjoying your favorite food is a lot like meditating on Jesus.
Point 2: Meditate is a pretty fancy word, but it really just means to take your time to think long and hard about something and I can't think of anyone or anything more enjoyable to think about than Jesus and the Bible.  There are so many wonderful things about Jesus.  And if you are a Christian you will get to think about Him forever.
Point 3: Our verse today says that Isaac was meditating in a field.  What do you think He was meditating about?  Maybe he was looking at the cedar and the hyssop trees and was remembering how mighty God is.  Or maybe the little grasshopper or soaring eagle caught his eye and he remembered how God is with us when we are weak, but is faithful to make us strong.  It's OK if you don't have a field to go to and meditate in.  The important thing is that you take the time to spend time with Jesus and His Word.
This 3-Point Bible Object Lesson for Kids was inspired by my reading of C.H. Spurgeon's devotional on Genesis 24:63 from his book Morning and Evening.  You too can be inspired by your favorite Christian authors and come up with your own 3-Point Sermon for Kids.
Just in case you're interested, you might want to check out this book with even more Bible object lessons for your kids: Really Big Book of Kids Sermons and Object Talks (Really Big Books)
If you liked this Sunday School/Homeschooling idea, then sign up to receive Scripture Lady's Free Email Kid Tips packed full with creative ideas and receive 6 FREE Bible Review Games to help get the kids you minister to excited about the Bible! Just go to www.MyFreeBibleGames.com to fully subscribe.
Also, don't forget to "LIKE" me on Facebook. Just click on my Facebook logo to the right. Thank you!
If you're into Twitter, click on the cute little bird!
"So do not fear for I am with you; do not be dismayed. For I am your God; I will strengthen you and help you. I will uphold you with my righteous right hand."
Isaiah 41:10