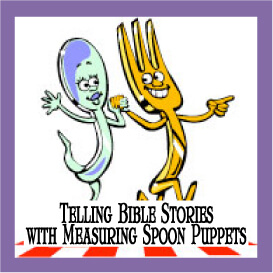 The Scripture Lady loves coming up with fun ways to tell Bible stories! Here is one called "Measuring Spoon Puppets."
I love puppets!  But I've never had the time to become very talented at using them.  So, it's a good thing preschoolers are very forgiving.  They don't care if your lips move.  They just want to have fun.  Measuring spoon puppets are perfect first time puppets and a great way to tell a Bible story.
Fun ways to tell Bible stories will help your children hide God's Word in their hearts and for this one you will need to do the following:
Go to your local "dollar" store and get enough measuring spoons for every child in your group.  Most measuring spoons come in groups of 5, so you won't have to spend too much money for this activity.  Next, make them look like Bible characters.  Add eyes, nose, mouth, yarn or felt for hair with the cute little headband across the forehead for the boy spoons and a little hair scarf for the girl spoons.  Finally cut out some clothes, paper doll style, to glue on their fronts.  Try to make them as durable as possible so you can reuse them several times.
Another idea for creating your spoons into people is to go online and find pictures of Bible characters that you can print off onto cardstock and then laminate before gluing them onto the spoon.  By the way, this same idea works really well with wooden spoons also.  You can usually find these at your local "dollar" store as well.
Now it's Bible story time.  Assign "parts" to each of the spoons.  If your story only has 3 main characters and you have 8 kids, let the other 5 be part of the townspeople.  As you read the story, encourage the children to raise their puppets up high when their Bible character shows up on the scene.
Another fun idea for your puppets is to create a family member out of each spoon.  The tablespoon can be Daddy, the teaspoon is Mommy, the 1/2 teaspoon is brother, the 1/4 teaspoon can be sister and the 1/8 teaspoon can be baby.
Once you have your family created, sing this sweet "piggy back" song to the tune of "Buffalo Gals".  It goes like this:
When Jesus lives in Mommy's heart, Mommy's heart, Mommy's heart
When Jesus lives in Mommy's heart – Happy is the home!
Sing the song again replacing each family member's name into the song.  And you thought measuring spoons were just for cooking!
Just in case you're interested, you might want to check out this book with even more Bible lessons for your kids: Puppet Scripts for Preschool Worship (Ages 3-6): Exploring Bible Truths with Scout & Scamper (HeartShaper Resources-Early Childhood)
If you liked this Sunday School/Homeschooling idea, then sign up to receive Scripture Lady's Free Email Kid Tips packed full with creative ideas and receive 6 FREE Bible Review Games to help get the kids you minister to excited about the Bible! Just go to www.MyFreeBibleGames.com to fully subscribe.
Also, don't forget to "LIKE" me on Facebook. Just click on my Facebook logo to the right. Thank you!
If you're into Twitter, click on the cute little bird!
"To Him who loves us and has freed us from our sins by His blood be all the glory and the power forever. Amen!"
Revelation 1:5-6