God Loves You: Week Three Bible Video Lessons will teach your children that God loves them very much in fun and creative ways.
God Loves You: Week Three Bible Video Lessons will teach your kids about God's great love for them. In my opinion, the greatest truth that you can tell your kids is that God loves them. When your children know that Jesus loves them, this truth should shape their lives from their first day until their last. Share these videos to help your kids grow in God's love.
This week's videos have been pulled from several programs in which I have shared the love of God with many children. Even though all my schools and churches were forced to shut down, I am thankful that I can share the elements of these programs with your children through the free videos.
You will have access to these FREE Bible Videos beginning Friday, April 3rd at 7am (PST) via and email you will receive if you have subscribed.
In order to get the free videos, you will need to click on the big green button below.
HOWEVER, IF YOU'VE ALREADY SUBSCRIBED, YOU ONLY NEED TO DO IT ONE TIME:
Click HERE to Subscribe to The Scripture Lady's Lessons
IMPORTANT: The 8 weeks began on Friday, March 20, 2020. You may sign up at anytime over the next 8 weeks (at least), but you will only get free access to the current week of lessons and the following weeks after your sign up date. You will not be able to access previous weeks of lessons.
You will only have access to what is on the page for the week's Bible lesson.
Take a sneak peak at the creative ideas that will be showcased in Week Three's videos:
God Loves You

It's amazing how many different ways that God shows His love to us. One of my favorite ways that God proclaims His love is by rejoicing over us by singing. According to Zephaniah 3:17, this is true! So, let your kids sing this fun song to help them learn this truth.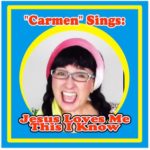 "Jesus Loves Me" has been around for a long time and is one of the greatest songs that proclaim how much Jesus loves you and me. In this video, your kids will get to hear this fun song sung by my "cousin" Carmen. Carmen is from Mexico and will give her Latin spin on this Sunday School favorite.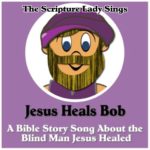 Some of my favorite stories in the Bible are the ones where Jesus heals someone. This video will give a creative retelling of the story of the blind man whom Jesus healed found in Mark 8:22-26.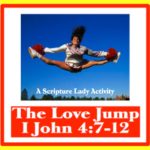 Here is a very fun and easy game that will teach your kids more about God's great love. It's called "The Love Jump" and is used with the Scripture 1 John 4:7-12. So, what are you waiting for? Get jumping!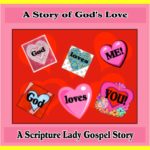 Here is creative story all about God's love using the shape of a heart. After hearing this story, your children will have been introduced to the Gospel message and will know that Jesus loves them and can forgive all their sin.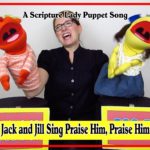 The Scripture Lady loves singing with Jack and Jill and your kids will love it, too! In this video, Jack and Jill share about important it is to know that God is love and that we need to share God's love with everyone we know.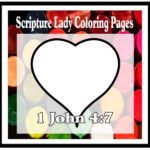 Here is a fun and simple coloring page to remind your kids that God loves them and that loves come from God.
If you liked this idea for sharing God Loves You: Week Three Bible Video Lessons, then sign up to receive Scripture Lady's Free Email Kid Tips packed full with creative ideas and receive 12 FREE Bible downloadable resources to help get the kids you minister to excited about the Bible! Just go to www.MyFreeBibleGames.com to fully subscribe.
Also, don't forget to "LIKE" me on Facebook. Thank you!