Get your free Bible Video Lessons for Psalm 23 to help your children learn that Jesus is their Good Shepherd. Jesus will watch over them and take care of them because He loves them.
These free Bible Video Lessons for Psalm 23 are part of The Scripture Lady's (yours truly) Week Two lessons. The theme is "The Lord is My Shepherd." Last Friday I announced that I would be offering free Bible video lessons for 8 weeks to those who subscribed. During these difficult times, I want to provide families and teachers with creative resources for teaching the Bible. Now, more than ever, the biblical and spiritual upbringing of our children needs to continue stronger than ever.
This week's videos come from my newest musical Bible program called, "The Lord is My Shepherd." Thankfully, I got to perform it a few times before the Corona virus overtook everything. Soon all my schools and churches were forced to shut down. But I am thankful that I can share the elements of this program with your children through the free videos.
You will have access to these FREE Bible Videos beginning Friday, March 27th at 7am (PST) via and email you will receive if you have subscribed.
In order to get the free videos, you will need to click on the big green button below.
HOWEVER, IF YOU'VE ALREADY SUBSCRIBED, YOU ONLY NEED TO DO IT ONE TIME:
Click HERE to Subscribe to The Scripture Lady's Lessons
IMPORTANT: The 8 weeks began on Friday, March 20, 2020. You may sign up at anytime over the next 8 weeks (at least), but you will only get free access to the current week of lessons and the following weeks after your sign up date. You will not be able to access previous weeks of lessons.
You will only have access to what is on the page for the week's Bible lesson.
Take a sneak peak at the creative ideas that will be showcased in Week Two's videos:
The Lord is My Shepherd

Do your kids know that Jesus is their Shepherd and that they are His sheep?
That's what the Bible says and here is a fun song that you can sing to help your children learn this truth.
Scripture Granny is all dressed up as a shepherd and ready to sing to your kids about how Jesus is our Good Shepherd.
He loves them takes care of them and even laid down His live for them. That's what a good shepherd does!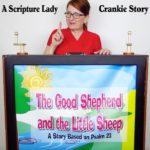 "The Good Shepherd and the Little Sheep" is a sweet story written by The Scripture Lady based on Psalm 23.
It uses the creative form of storytelling known as a "Crankie." Your children will delight in the moving pictures and the story
of the little lamb who followed her Good Shepherd.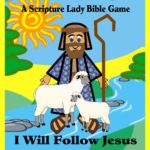 Because Jesus is our Good Shepherd, we should follow Him all the days of our lives.
When we follow Jesus, we will become more like Him every day. Your children will learn this truth while they play 'I Will Follow Jesus."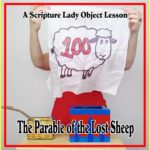 The Parable of the Lost Sheep was a parable told by Jesus in Luke 15:3–7. It's a wonderful story that teaches us
that when we wander away from the loving care of our Good Shepherd, He will come looking for us until we are found.
The Scripture Lady loves singing with Jack and Jill and your kids will love it, too! In this video,
Jack and Jill share about the times when they decided to follow Jesus all of their lives.
Then everyone is encouraged to sing that great old hymn, "I Have Decided."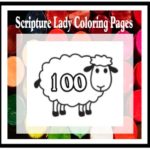 Here is a fun and simple coloring page to remind your kids about the Parable of the Lost Sheep story told by Jesus.
If you liked this idea for sharing FREE Bible video lessons for Psalm 23, then sign up to receive Scripture Lady's Free Email Kid Tips packed full with creative ideas and receive 12 FREE Bible downloadable resources to help get the kids you minister to excited about the Bible! Just go to www.MyFreeBibleGames.com to fully subscribe.
Also, don't forget to "LIKE" me on Facebook. Thank you!