Bible story pictures for when Jacob tricked Isaac will help your children learn the importance of telling the truth and how God is in control of all things.
These Bible story pictures for when Jacob tricked Isaac are perfect to share with your children while telling them this interesting story of deception. These pictures will help your kids understand a little bit better of how important it is to be honest. Yet they will also learn that God works for the good even in our wrong doings.
The story of when Jacob tricked Isaac is found in Genesis 27:1-36. It takes place at the end of Isaac's life. Isaac wants to bless his sons with a blessing from God before he dies. He wants the blessing to take place during a meal. Isaac planned to pass along the greatest of God's blessings to his oldest son, Esau. However, God had other plans. It was always God's intention that Jacob, the younger of the twin brothers would walk away with the greater blessing. As the plot thickens throughout this story, Isaac's family continues on a journey of mistrust and manipulation that will follow them for years to come.
The family dynamics of this story can be found within the families of the children you serve. As you share this story, take time to talk about each of the people in Jacob's family and ask your children if they have encountered any of the same characteristics in their own families such as dishonesty and anger and the love of a father for his sons.
The Bible story pictures for when Jacob tricked Isaac come from a great resource which I purchased several years ago. They come from a 2-DVD collection called "The Ultimate Bible Picture Collection." All of these pictures are found in the public domain.
Along with the Bible story pictures for when Jacob tricked Isaac, I want to introduce you to a song that I wrote all about this great story. You will see in the sample video that is below that I sing it using a great "puppet" from Steve Axtell. You could sing this song with a puppet of your own making, or just sing the song as it is with your children to help them learn the story.
Take a look at the sample video of this song:
The first 5 people who leave a comment at the bottom of this page will get this Bible story song for FREE! Once you write the comment, I will email you with free access to this song.
By the way, before you scroll down for the Bible story pictures, you might want to sign up to receive information about my next online video Bible Time Program.
When you sign up by clicking on the Green Button below, you will receive my very first online program for FREE called "God Gives Me Power!"
So, don't delay, sign up today, if you haven't done so already.
In order to get this FREE program, you will need to click on this big green button below.
Click HERE to Sign Up for Your FREE Bible Time Program
Please enjoy the Bible story pictures for when Jacob tricked Isaac below and share them with all the children you know. Just click on each picture in order to download it or print it.
Bible Story Pictures for when Jacob Tricked Isaac
The following story is based on the scriptures from Genesis 27:1-36.
Picture 1 
When Isaac was old, his eyesight was poor, so he could not see clearly. One day he called his older son Esau to him and said, "Son." Esau answered, "Here I am."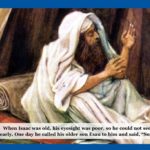 Picture 2 
Esau answered, "Here I am." Isaac said, "I am old and don't know when I might die. 3 So take your bow and arrows and go hunting in the field for an animal for me to eat. 4 When you prepare the tasty food that I love, bring it to me, and I will eat. Then I will bless you before I die."5 So Esau went out in the field to hunt.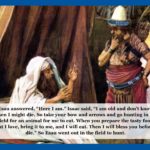 Picture 3 
Rebekah was listening as Isaac said this to his son Esau.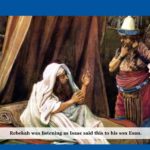 Picture 4 
She said to her son Jacob, "Listen, I heard your father saying to your brother Esau, 7 'Kill an animal and prepare some tasty food for me to eat. Then I will bless you in the presence of the Lord before I die.' 8 So obey me, my son, and do what I tell you. 9 Go out to our goats and bring me two of the best young ones. I will prepare them just the way your father likes them.10 Then you will take the food to your father, and he will bless you before he dies."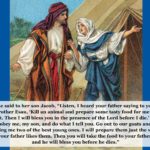 Picture 5 
But Jacob said to his mother Rebekah, "My brother Esau is a hairy man, and I am smooth! 12 If my father touches me, he will know I am not Esau. Then he will not bless me but will place a curse on me because I tried to trick him."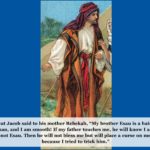 Picture 6 
So Rebekah said to him, "If your father puts a curse on you, I will accept the blame. Just do what I said. Go get the goats for me."
So Jacob went out and got two goats and brought them to his mother, and she cooked them in the special way Isaac enjoyed. 15 She took the best clothes of her older son Esau that were in the house and put them on the younger son Jacob. 16 She also took the skins of the goats and put them on Jacob's hands and neck. 17 Then she gave Jacob the tasty food and the bread she had made.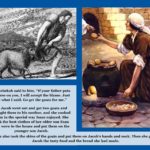 Picture 7 
Jacob went in to his father and said, "Father." And his father said, "Yes, my son. Who are you?" Jacob said to him, "I am Esau, your first son. I have done what you told me. Now sit up and eat some meat of the animal I hunted for you. Then bless me." But Isaac asked his son, "How did you find and kill the animal so quickly?" Jacob answered, "Because the Lord your God helped me to find it." Then Isaac said to Jacob, "Come near so I can touch you, my son. Then I will know if you are really my son Esau."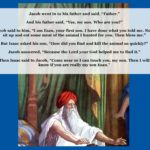 Picture 8 
So Jacob came near to Isaac his father. Isaac touched him and said, "Your voice sounds like Jacob's voice, but your hands are hairy like the hands of Esau." Isaac did not know it was Jacob, because his hands were hairy like Esau's hands, so Isaac blessed him.Isaac asked, "Are you really my son Esau?" Jacob answered, "Yes, I am." Then Isaac said, "Bring me the food, and I will eat it and bless you." So Jacob gave him the food, and he ate. Jacob gave him wine, and he drank. Then Isaac said to him, "My son, come near and kiss me." So Jacob went to his father and kissed him. When Isaac smelled Esau's clothes, he blessed him…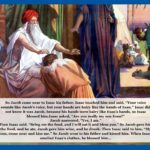 Picture 9 
Isaac finished blessing Jacob. Then, just as Jacob left his father Isaac, Esau came in from hunting. He also prepared some tasty food and brought it to his father. He said, "Father, rise and eat the food that your son killed for you and then bless me." Isaac asked, "Who are you?" He answered, "I am your son—your firstborn son—Esau." Then Isaac trembled greatly and said, "Then who was it that hunted the animals and brought me food before you came? I ate it, and I blessed him, and it is too late now to take back my blessing."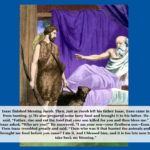 Picture 10 
Esau said, "Jacob is the right name for him. He has tricked me these two times. He took away my share of everything you own, and now he has taken away my blessing."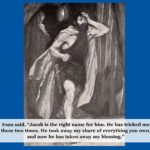 If you liked this idea for sharing Bible story pictures for when Jacob tricked Isaac, then sign up to receive Scripture Lady's Free Email Kid Tips packed full with creative ideas and receive 12 FREE Bible downloadable resources to help get the kids you minister to excited about the Bible! Just go to www.MyFreeBibleGames.com to fully subscribe.
Also, don't forget to "LIKE" me on Facebook. Thank you!
Click HERE to download the mp3 song and video for only $2.49.