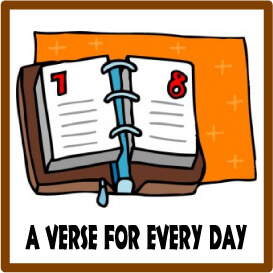 Sunday School ideas are great for any class! Here is one called "A Verse for Every Day."
"This is the day the Lord has made.  Let us rejoice and be glad in it!"
Do any of you remember that song?  It was one of the first worship choruses I learned back when I was 13.  I used to sing it all the time.  Every day IS special when we realize the miracle of life God gives us.  His Word is special too.  So, why not put a Scripture verse together with today's date and see what special encouragement you can receive from the Lord.
For example, my birthday is May 20th or 5-20 or 5:20.  Hmmm…5:20 reminds me of James 5:20 which says, "Whoever turns a sinner from the error of his way will save him from death and cover over a multitude of sins."  But then again 8:7 is my husband's and my anniversary which reminds me of John 8:7 – "If anyone of you is without sin, let him be the first to throw a stone at her."
Get the point?  Make each day extra special by having your children find a verse that matches the date of the day.  Can anyone come up with a good one for today?  I'd love to hear your ideas. This is just one of many of Scripture Lady Sunday School ideas.
May the Word of God be praised EVERY DAY!
By the way, this would be a fun activity to play while your kids are standing in line or waiting for the next  event during VBS. Just ask for someone's birthday and look up a verse that matches the numbers.  Have fun!
Just in case you're interested, you might want to check out this book with even more Bible lessons for your kids: Awesome Bible Verses Every Kid Should Know
If you liked this Sunday School/Homeschooling idea, then sign up to receive Scripture Lady's Free Email Kid Tips packed full with creative ideas and receive 6 FREE Bible Review Games to help get the kids you minister to excited about the Bible! Just go to www.MyFreeBibleGames.com to fully subscribe.
Also, don't forget to "LIKE" me on Facebook. Just click on my Facebook logo to the right. Thank you!
If you're into Twitter, click on the cute little bird!
"Glory to God in the highest and on earth peace to men on whom His favor rests."
Luke 2:14