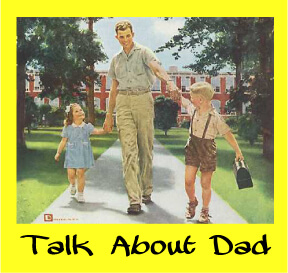 There is a short but profound proverb in the Bible about fathers and mothers, which says this: Listen to your father, who gave you life, and do not despise your mother when she is old.  Proverbs 23:22 (NIV) Preschoolers love their mommies and daddies and are learning to trust them day by day. Here is a fun preschool Bible lesson to play with your little ones that can help focus their attention on their "dear old dads". This activity is especially great for Father's Day.
Have you ever had your children speak into a tape recorder and then play it back to them? If you haven't, you're in for a real treat. Your little ones will love hearing their voices and the voices of their friends as they share about their dads. For this activity, you will need a tape recorder and the following list of questions to ask each child. Don't just ask all the questions to one child and then repeat the process with the next, but mix up the questions with several children taking turns to answer. Your goal is to have your finished tape play back the children's voices in a mixed order. This will make it fun for the children when they try to discover who the child is who is talking. You should also encourage them to give short answers to keep a nice pace going. Here are the questions I came up with. See if you can't make up more of your own.
Questions About Dad:

If your dad cooks, what is your favorite food he makes?
What kind of clothes does your dad like to wear?
What is your favorite place you like to go with your dad?
How old do you think your dad is?
What is the best present your dad has ever given you?
What kind of games do you play with your dad?
What is the best present he ever gave to your mommy?
If you end up with a real winner of a tape, you might consider making copies to give to the different dads. Finally, be sensitive to those children who might not have a
dad. You could have them share about their uncle or grandpa or some other special man in their life.
Just in case you're interested, you might want to check out this book with even more Bible lessons for your kids: INSTANT BIBLE LESSONS FOR PRESCHOOLERS–GOD'S SERVANTS TEACH ME
If you liked this Sunday School/Homeschooling idea, then sign up to receive Scripture Lady's Free Email Kid Tips packed full with creative ideas and receive 6 FREE Bible Review Games to help get the kids you minister to excited about the Bible! Just go to www.MyFreeBibleGames.com to fully subscribe.
Also, don't forget to "LIKE" me on Facebook. Just click on my Facebook logo to the right. Thank you!
If you're into Twitter, click on the cute little bird!