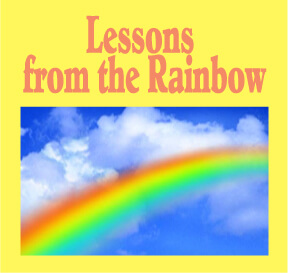 The Scripture Lady loves creating Bible object lessons for kids! Here is one called "Lessons From the Rainbow."
Genesis 9:14 says this: "The bow shall be seen in the cloud."  There are very few things in nature as beautiful as a rainbow.  Not only are they lovely to look at, but they are a wonderful picture of God's grace and forgiveness for all who will receive it.  Here is a fun Bible object lesson to teach your kids this important truth.
Bible object lessons for kids will help the Bible's truths come to life and for this one you will need to do the following:
The object you will use for this lesson will be a picture of a rainbow surrounded by clouds.
Ask the following questions to help stimulate discussion:
1.     What is this a picture of?  (Wait for responses.)  That's right.  It's a rainbow.
2.     Have any of you ever seen a rainbow?  (Wait for responses.)  I have too!  They are beautiful!
3.     Who can tell me when the first rainbow appeared according to the Bible?  (Wait for responses.  Share the story of Noah if the children are not familiar with it.)  I believe the rainbow is a promise of God that He will never destroy the earth by a flood again.  It also is a picture of God's promise to forgive us of our sins.
4.     There's something else in my picture.  What is the rainbow surrounded by?  (Wait for response of clouds.)  I think the clouds can remind us of the sins in our lives that need to be forgiven.
5.     Ask a child to read Genesis 9:14.
6.     Let's learn a little more about this Bible verse and learn how to apply it to our own lives.  Here are 3 important points.
Point 1: Does your life ever feel all cloudy sometimes?  You know, like nothing is going right and you believe that you've sinned and need to get right with God.  Well, cloudy days are hard, but they can also bring beautiful rainbows.  Jesus is like a rainbow and there are 3 lessons we can learn from the rainbow.
Point 2:
1.     Rainbows are often only seen after cloudy, rainy days.  The clouds remind us of our sins and that we need to ask forgiveness of our sins.  The rainbow was a promise from God to Noah that He would never flood the earth again just like Jesus promises us that He will forgive us of our sins.
2.     Out of our cloudy days come drops of rain.  Hard times and difficult situations can feel like pounding rain on our rooftops.  Our sins can also feel like heavy drops of water.  But don't forget.  Jesus died on the cross for your sins.  And just like the rain acts like a mirror for the sun and shines a rainbow, Jesus shines His light and love into your life with great forgiveness.
3.     A rainbow must have light.  Clouds and drops of rain will not make a rainbow unless you have sunshine.  The Bible says that Jesus is our light and He always shines even though we don't always see Him.  The clouds or our troubles and sins may hide the Son from us, but never forget that He is there ready to comfort and forgive you.
Point 3: Finally, "it is said that when we see the rainbow, the shower is over."  And when we look to Jesus with hearts that are sorry, our sins are forgiven and we are washed clean in His love.
Just in case you're interested, you might want to check out this book with even more Bible object lessons for your kids: The Big Book of Kids Sermons and Object Talks (Big Books)
This 3-Point Bible Object Lesson for Kids was inspired by my reading of C.H. Spurgeon's devotional on Psalm 97:1 from his book Morning and Evening.  You too can be inspired by your favorite Christian authors and come up with your own 3-Point Sermon for Kids.
If you liked this Sunday School/Homeschooling idea, then sign up to receive Scripture Lady's Free Email Kid Tips packed full with creative ideas and receive 6 FREE Bible Review Games to help get the kids you minister to excited about the Bible! Just go to www.MyFreeBibleGames.com to fully subscribe.
Also, don't forget to "LIKE" me on Facebook. Just click on my Facebook logo to the right. Thank you!
If you're into Twitter, click on the cute little bird!
"Do not be afraid or discouraged for the battle is not yours, but God's."
2 Chronicles 20:15
(Click here for a sample of this Bible verse song.)