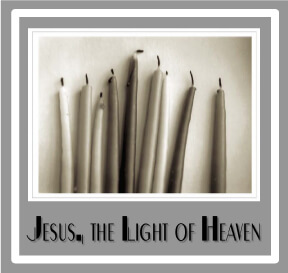 The Scripture Lady loves creating Bible object lessons for kids! Here is one called "Jesus, the Light of Heaven."
I think if everyone were to be completely honest, they would say that being in complete darkness is not pleasant.  How wonderful to know that the Bible says that Jesus is the Light of the world.  Revelation 21:23 says that "the Lamb is the light (of Heaven)."  Share this fun Bible object lesson with your kids to help them learn this important truth.
Bible object lessons for kids will help the Bible's truths come to life and for this one you will need to do the following:
The object you will use for this lesson will be 5 self-standing candles.  Line the unlit candles in a row on a sturdy table facing the children.
Present the candles to your children and ask the following questions to help stimulate discussion:
1.     What do I have here: (Wait for response such as  5 candles.)
2.     What are some uses for candles?  (Wait for responses.)
3.     Is it fair to say that the main job of a candle is to give light?  (Wait for response of "Yes.")
4.     You're right.  Candles give off light.  However these candles, if they were lit, would not give off a very strong light.
5.     Ask a child to read Revelation 21:23.  Use a version that uses the word light.
6.     Say the following:  Wow!  This verse says that Jesus, who is the Lamb of God, is the light of Heaven.  Now that's what I call a powerful light!  Let's learn a little more about this interesting verse and my candles here so that we can get to know more about God.  Let's learn 3 important points about this truth.
Point 1: Every morning on Earth, the sun rises to give us light, but in Heaven the Bible tells us there will be no sun because Jesus will be the Light of Heaven.  (Light one of the candles.) He will be all the light we ever need.
Point 2: Let's think about this Light that we will one day see in Heaven:
1st – The Light of Jesus will give us joy.  (Light the second candle.)  We will forever be reminded of how much Jesus loved us enough to give His life for us and to die for our sins.
2nd – The Light of Jesus will make everything beautiful.  (Light the third candle.) We will be like dazzling jewels that reflect His love for us.
3rd – The Light of Jesus will give us understanding.  (Light the fourth candle.)  Just think of all those questions you've had while on earth.  They will all be answered.  In Heaven you will understand everything.
4th – The Light of Jesus will change us.  (Light the fifth candle.)  The body we have now will change when we get to Heaven.  We will be glorified just like Jesus!
Point 3:To see the Light of Jesus someday in Heaven will be amazing.  Jesus is the Light, (Blow out the first candle.) the King of kings, (Blow out the first candle.) the Lord of lords, (Blow out the first candle.) our Savior and Almighty God. (Blow out the first candle.)  Our lights will never compare the glorious light of Jesus!
This 3-Point Bible Object Lesson for Kids was inspired by my reading of C.H. Spurgeon's devotional on Revelation 21:23 from his book Morning and Evening.  You too can be inspired by your favorite Christian authors and come up with your own 3-Point Sermon for Kids.
If you liked this Sunday School/Homeschooling idea, then sign up to receive Scripture Lady's Free Email Kid Tips packed full with creative ideas and receive 6 FREE Bible Review Games to help get the kids you minister to excited about the Bible!    Just go to www.MyFreeBibleGames.com to fully subscribe.
Also, don't forget to "LIKE" me on Facebook.  Just click on my Facebook logo to the right.  Thank you!
If you're into Twitter, click on the cute little bird!
"Do not merely listen to the Word and so deceive yourselves."
James 1:22