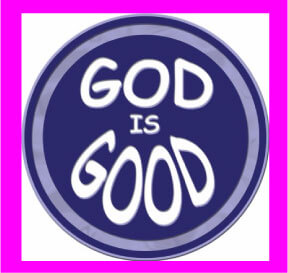 Bible verse games are great for preschoolers too! Here is one for Psalm 118:1 called "God is Good."
Psalm 118:1 says: "Give thanks to the Lord for He is good.  His love endures forever." Do your little ones know how good God is?  True.  They do need some maturity before they really begin to see God's goodness in their lives, but it's never too early to start teaching the principle to them that indeed God is good!  Here are 2 fun memory verse activities to help them understand how amazing God is.
Memory Verse Activity #1:  God's Good Box
Bible verse games are fun and for this one you will need a large empty box (about 18"x18") upon which your children can glue pictures of good things that God has done or given.  For example, you can have pictures of different animals, pictures of people such as grandmas or pictures of things in nature.  Make sure you have duplicates of these pictures and laminate them for long-term use.  Hide the duplicate pictures around the room.  You are now ready to play the activity.
Read Psalm 118:1 to your class.  Show the class the box, which they have helped to decorate with all the good things God has given.  Name each picture and recite the verse after each one.  Now pick a child to point to any picture on the box.  Tell him that another picture just like the one he chose is hidden somewhere in the room.  Encourage him to find it.  Once he finds the picture, have the whole class recite the memory verse together.  Play until each child has had a turn or until all the pictures have been found.
Memory Verse Activity #2:  Give Thanks Bracelets
Give each child a "bracelet" of masking tape.  Have prepared several small pictures the size of one inch buttons of things they might be thankful for.  For example, you might have pictures of family, friends and food.  Let them choose the buttons they want and stick them onto their "bracelets".  Finally, have each of the children find someone in the room to shake hands with.  As they do so, lead them in reciting their verse.  Have the children change handshaking partners several times to give them plenty of chances to say their memory verse.
Just in case you're interested, you might want to check out this book with even more Bible lessons for your kids: Big Big God: 13 Amazing Lessons Where Preschoolers Experience God [With CD]
If you liked this Sunday School/Homeschooling idea, then sign up to receive Scripture Lady's Free Email Kid Tips packed full with creative ideas and receive 6 FREE Bible Review Games to help get the kids you minister to excited about the Bible! Just go to www.MyFreeBibleGames.com to fully subscribe.
Also, don't forget to "LIKE" me on Facebook. Just click on my Facebook logo to the right. Thank you!
If you're into Twitter, click on the cute little bird!
"Let your gentleness be evident to all. The Lord is near."
Philippians 4:5