God Gives Me Power! is The Scripture Lady's first ever online virtual program for young children ages 4 to 8 teaching that God is powerful!
"God Gives Me Power!" is a Bible program I have been wanting to write for a long time about the power God gives to each of us through His Holy Spirit. Since the celebration of Pentecost is just around the corner, I am excited to provide this lesson as part of your biblical instruction about this holiday and the power of God in our lives when we believe in Jesus. And the best part of all – I'm giving it away for FREE!
"God Gives Me Power!" is an introduction to the Holy Spirit for children ages 4 to 8. In this lesson, I focus on the power that God fills His people with when they believe in His Son Jesus Christ.  Children love the idea of having power in their lives. This program will give you the opportunity to teach them that they can have the actual power of God in their own lives when they love Jesus. They will also learn that the Holy Spirit loves to give gifts that show how powerful Jesus is. I hope and pray that this creative lesson will be a blessing to each of the children you serve.
Sign up to receive FREE access to "God Gives Me Power!" – The Scripture Lady's first ever online virtual program.
In order to get this FREE program, you will need to click on this big green button below.
Click HERE to Sign Up for Your FREE Bible Time Program
Here's a sneak peak at all the creative ways that shares the truth about how powerful God truly is:
Section One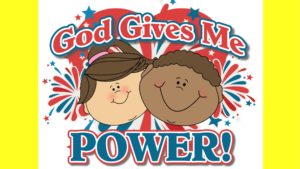 Section One will provide you with access to the full length video of "God Gives Me Power!"
Section Two
This section will give access to each of the individual videos for "God Gives Me Power!"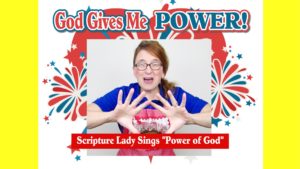 The Power of God Song
Do your children know that they can have the actual power of God living inside of them? It's true! God wants His power in each one of us so that people will see how truly powerful He is.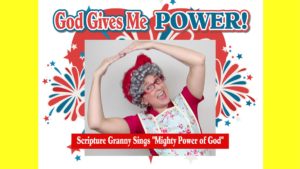 Scripture Granny Sings the Mighty Power of God
Scripture Granny loves to teach children that God is powerful. Your kids will delight to sing along with Scripture Granny to this wonderful old hymn put to a new toe-tapping tune.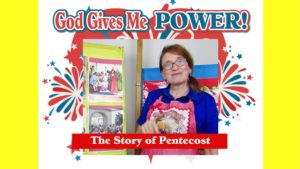 A Bible Story Order Song for Pentecost
The story of Pentecost is an amazing story of God's great power! The Scripture Lady's Bible Story Order song will help your children learn the six main parts of this story while singing and dancing along.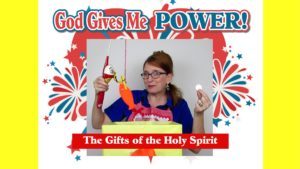 The Holy Spirit Gives Gifts Bible Game
If your child believes in Jesus, then they are old enough receive any gifts that the Holy Spirit might want to give them. What are the gifts of the Holy Spirit? During this game, your children will learn about 5 of God's wonderful gifts of the Holy Spirit.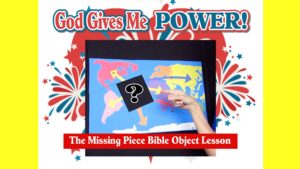 The Missing Piece Bible Object Lesson
The Missing Piece Bible object lesson based on Acts 1:8 is a creative way to share the truth that when you are filled with the Holy Spirit, you will have God's power to tell others about Jesus.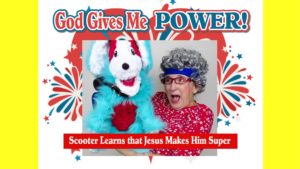 Scooter Learns that Jesus Makes Him Super
Scooter thinks that he is pretty super. But Scooter gets to learn from Scripture Granny that it's Jesus that makes us all super when we believe in Him.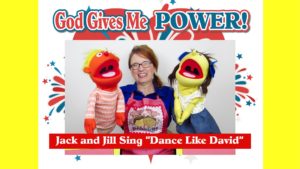 Jack and Jill Sing Dance Like David
Jack and Jill are learning that the Holy Spirit gives them power. And just like King David from the Bible, they can sing, pray and dance in the power of the Holy Spirit. Your kids will have fun singing along with Jack and Jill to the old classic, "Dance Like David."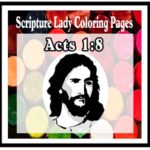 A Coloring Page Based on Acts 1:8
Acts 1:8 is a powerful Bible verse that shares how God promises to give us His power to share about Jesus all over the world.
If you liked this idea of the "God Gives Me Power" Bible Time Program, then sign up to receive Scripture Lady's Free Email Kid Tips packed full with creative ideas and receive 12 FREE Bible downloadable resources to help get the kids you minister to excited about the Bible! Just go to www.MyFreeBibleGames.com to fully subscribe.
Also, don't forget to "LIKE" me on Facebook. Thank you!