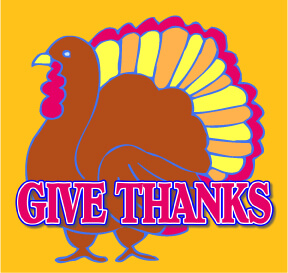 The Scripture Lady loves creating Bible review games! Here is one called "Give Thanks" to teach about thankfulness.
Thanksgiving is probably my favorite holiday.  It's a holiday that our whole country celebrates whether Christian or not.  But as Christians, we have a special responsibility and privilege to offer up thanksgiving to the one and only true God.  The Bible is filled with Scriptures of thanksgiving.  Play this Bible activity for kids as a reminder for your kids of this very truth.
Bible review games will help your children learn God's Word in a fun way and for this one you will need to do the following:
For this game you will need to prepare 10 letter cards that spell out "GIVE THANKS". I found a nice image of a turkey and created them on my computer. You can see what my cards look like at this link along with how I set them up:
You will also need to create 2 posters: one that shows a large turkey leg with these words – How many turkey legs can you eat?, the other will show a large pumpkin pie with these words – How much pumpkin pie can you eat?
Finally, on the backs of each of the letter cards, you will write out ten multiple choice quiz questions which I have provided for you below. I suggest you laminate all the cards for long-term use.
Set Up:  For this game, I use 1 pocket chart (approx. 28″ square) and one dry erase board. (You can find pocket charts at your local teacher supply store or online at www.orientaltrading.com)  Spell out the two words, GIVE THANKS, by placing the cards on one chart.  On the dry erase board, place the turkey leg on one side of the board and the pumpkin pie on the other side of the board.  The leg and the pie represent 2 different teams.  You will also need a die or a pair of dice.  I actually made mine out of a box.  Kids like it when props are big.  It will make the game more fun.
How to Play:  Divide your children into 2 teams and pick a child to be the scorekeeper.  Tell the children that since it is almost Thanksgiving, they are going to play the Bible review game, "Give Thanks".  Continue to say that giving thanks should be a regular habit for every Christian.  Most people never forget to eat, so why should we ever forget to thank God for all we have?  Believe it or not, being thankful is a lot more important than having a full stomach like many of us will have on our Thanksgiving holiday.  In fact, I bet many of you are going to eat turkey and pumpkin pie, but how much pumpkin pie or turkey can each of your teams really eat?  We are going to find out.  Team one will be the turkey leg eaters and Team 2 will be the pumpkin pie eaters.  The team that "eats" the most of their item wins.
Have a child come up from the first team.  Ask him to pick one of the Letter cards.  The teacher should read the Scripture and then ask the "What does not belong" question.  If the child answers the question correctly, he will then have the chance to roll the die 2 times or roll the pair of dice once.  The total number that is rolled is the number of legs or pie pieces their team can eat.  A child from the next team comes up and repeats the process until all Scriptures have been read.
Quiz Questions
1. Psalm 147:7
"Sing to the LORD with thanksgiving; make music to our God on the harp."
What does not belong?
A.  We should sing to the Lord with thanksgiving.
B.  We should make music to God.
C.  We should sing to the Lord with lying lips.
2.  Jonah 2:8-9
"Those who cling to worthless idols forfeit (or lose) the grace that could be theirs.
But I, with a song of thanksgiving, will sacrifice to you. What I have vowed I will make good. Salvation comes from the LORD."
What does not belong?
A.  Jonah sang a song of thanksgiving.
B.  Salvation comes from ourselves.
C.  Clinging to idols will cause us to lose the grace of God.
3.  Philippians 4:6
"Do not be anxious about anything, but in everything, by prayer and petition, with thanksgiving, present your requests to God."
What does not belong?
A.  We should present our requests to God.
B.  We can go to God with prayers and petitions.
C.  We should be anxious about everything.
4.  I Corinthians 4:15
"All this is for your benefit, so that the grace that is reaching more and more people may cause thanksgiving to overflow to the glory of God."
What does not belong?
A.  God's grace reaches many people.
B.  Giving thanks does not bless God.
C.  Thanksgiving can overflow to God.
5.  Jeremiah 30:19
"From them (Israel) will come songs of thanksgiving and the sound of rejoicing. I will add to their numbers, and they will not be decreased; I will bring them honor, and they will not be disdained."
What does not belong?
A.  God will bring honor to Israel.
B.  Israel will make sounds of rejoicing to God.
C.  God will add to Israel's bank account.
6.  I Corinthians 10:16
"Is not the cup of thanksgiving for which we give thanks a participation in the blood of Christ? And is not the bread that we break a participation in the body of Christ?"
What does not belong?
A.  The cup of suffering.
B.  The blood of Christ.
C.  The body of Christ.
7.  Psalm 100:4
"Enter his gates with thanksgiving and his courts with praise; give thanks to him and praise his name."
What does not belong?
A.  We can enter God's gates with praise.
B.  We should praise God's name.
C.  We can enter God's courts with complaints.
8.  Isaiah 51:3
"The LORD will surely comfort Zion and will look with compassion on all her ruins; he will make her deserts like Eden, her wastelands like the garden of the LORD. Joy and gladness will be found in her, thanksgiving and the sound of singing."
What does not belong?
A.  Mourning and sadness.
B.  Comfort and compassion.
C.  Joy and singing.
9.  Ezra 3:11
"With praise and thanksgiving they sang to the LORD : "He is good; his love to Israel endures forever." And all the people gave a great shout of praise to the LORD, because the foundation of the house of the LORD was laid."
What does not belong?
A.  The Israelites sang to the Lord.
B.  The people gave a shout of hatred to the Lord.
C.  God's love for Israel endures forever.
10.  Nehemiah 12:27
"At the dedication of the wall of Jerusalem, the Levites were sought out from where they lived and were brought to Jerusalem to celebrate joyfully the dedication with songs of thanksgiving and with the music of cymbals, harps and lyres."
What does not belong?
A.  Jerusalem celebrated with songs of mourning.
B.  Jerusalem celebrated with harps and lyres.
C.  Jerusalem celebrated joyfully.
If you liked this Sunday School/Homeschooling idea, then sign up to receive Scripture Lady's Free Email Kid Tips packed full with creative ideas and receive 6 FREE Bible Review Games to help get the kids you minister to excited about the Bible! Just go to www.MyFreeBibleGames.com to fully subscribe.
Also, don't forget to "LIKE" me on Facebook. Just click on my Facebook logo to the right. Thank you!
If you're into Twitter, click on the cute little bird!
"I will tell of the kindnesses of the Lord."
Isaiah 63:7