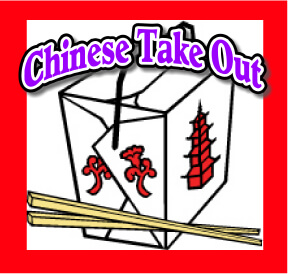 Memory verse games for preschoolers are super! Here is one called "Chinese Take-Out."
I love Chinese food!  I especially like take-out Chinese food because of the funny looking boxes they put the food in.  They're like little origami figures with a handle.
Well, one day I was at my local craft store and I noticed that they sold different sizes and colors of these quaint Chinese novelties.  My mind started thinking of the possibilities of how I could use these with my preschoolers – especially in the area of Bible memorization.  And so I came up with this tasty Bible memory verse activity I call "Chinese Take-Out".
Here's what you do:
Memory verse games for preschoolers are fun and for this one you will need to purchase different sizes of Chinese food take-out boxes that nest inside of each other.  I was able to find four that fit together nicely at my local Michael's Craft Store.  If you can't find these boxes, no worries, just switch the theme and call it "Charlie Brown's Lunch Box" and gather some different lunch boxes that fit inside of each other.  In the last box,
place some kind of treat that your whole group can share.  If you are going with the Chinese theme, you might try some dry Chinese noodles.  If you're doing the lunch box theme, you might try some potato chips or other kind of snack.
Now pick a Bible verse you would like your group to memorize.  Remember to choose a short verse for your preschoolers.  One that is maybe around 4 to 6 words long.  Say the verse over and over again several times and then announce that it's time for Chinese Take-Out!  Bring out your boxes and say something like, "I love Chinese food!  Do you guys like Chinese food?  (Wait for response.)  I love God's Word, the Bible, too!  Let's play a little game that will help us learn our Bible verse today.  We're going to say it all together and if we say it correctly, then I will let one of you come up and open my little take-out box and we'll see what's inside.  At some point, we will find a special Chinese treat to share."
Have the class say the Bible memory verse.  Ask a child to open the first box.  The children will be delighted to see that there is another box inside.  They will wonder how many boxes are really inside.
You can play this game more than once.  Just fill up the last box with another portion of food and start all over again.  Don't forget your chopsticks!
Just in case you're interested, you might want to check out this book with even more Bible lessons for your preschoolers: My ABC Bible Verses: Hiding God's Word in Little Hearts
If you liked this Sunday School/Homeschooling idea, then sign up to receive Scripture Lady's Free Email Kid Tips packed full with creative ideas and receive 6 FREE Bible Review Games to help get the kids you minister to excited about the Bible! Just go to www.MyFreeBibleGames.com to fully subscribe.
Also, don't forget to "LIKE" me on Facebook. Just click on my Facebook logo to the right. Thank you!
If you're into Twitter, click on the cute little bird!
"Without the shedding of blood there is no forgiveness." 
Hebrews 9:22
(Click here for a sample of this Bible verse song.)