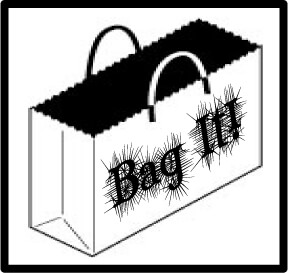 The Scripture Lady loves creating Bible memory verse games! Here is one called "Bag It!" to make memorizing Scripture fun.
"Would you like paper or plastic?"
The next time you're asked this, make sure you say, "Paper, please," then ask for the same number of bags to match the number of words found in your Bible memory verse.  After accomplishing these two steps, just follow the directions below to play the fun Bible memory verse game called "Bag It".
Bible memory verse games will help your children hide God's Word in their hearts and for this one you will need to do the following:
Once you have your paper grocery bags, on each one write out in big letters one word each from you memory verse.  I actually include one more bag for the reference of the verse.
Next, pick the same number of kids from your class to come up front where you proceed to place a bag over each of their heads in the correct order of the verse.  By the way, if you have a small class, you can have each bag contain 2 or 3 words at a time.  You will still have fun, but on a smaller scale.
Have the rest of the class recite the verse as they see it presented by the "Bag It" people.  Have them say it over and over several times in several different ways such as in a high voice or a low voice or as Mickey Mouse or as a really, really old person.  Once you see that the class is starting to memorize the verse, pat one of the kid's heads as a cue for them to remove their bag.  Have the class say the verse again, but this time they will need to remember the word or words that were taken away.  Continue this progression until all the bags have been taken off.  The result should be a class who now knows their memory verse all because of some everyday grocery bags.
Just in case you're interested, here is a great book for more Bible memory verse ideas: 52 Ways to Teach Memory Verses: Easy-to-Do Activities for Ages 2-12
If you liked this Sunday School/Homeschooling idea, then sign up to receive Scripture Lady's Free Email Kid Tips packed full with creative ideas and receive 6 FREE Bible Review Games to help get the kids you minister to excited about the Bible!    Just go to www.MyFreeBibleGames.com to fully subscribe.
Also, don't forget to "LIKE" me on Facebook.  Just click on my Facebook logo to the right.  Thank you!
If you're into Twitter, click on the cute little bird!
"Do not merely listen to the Word and so deceive yourselves, but do what it says."
James 1:22