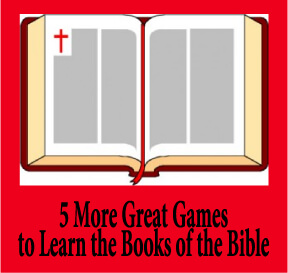 The Scripture Lady loves creating Bible review games! Here are 5 MORE great games to teach your kids the books of the Bible.
In a previous article, I gave 5 fun games to help your kids learn the books of the Bible. I believe it is very important for our kids to know their way around the greatest Book ever written, so here are 5 more games to help them grow in their knowledge of God's amazing Word.
Bible review games will help your children learn God's Word in a fun way and for this one you will need to do the following:
You will need to make a set of "Bible Book Cards". You can easily do this on your computer with some colorful graphics or you can simply print the names of all the books of the Bible on some index cards. Some of the games use points. So, on the backs of the cards, in random order, you will want to print point values of 100 to 500. Kids REALLY like earning points for their teams. Finally, I suggest you laminate all the cards for long-term use.
5 MORE Great Games
Give a Character

– Lay out 5 Bible Book Cards on a table. Say the name of a major character from one of the books. The child must then guess which book the character comes from in order to receive the points for his/her team. Keep saying characters for the other cards until there are 2 left. Lay out more cards to make it harder.

Concordance Fun

– Fan out 5 Bible Book Cards in your hand. Have a child come pick a card. Let's say it is the book of Psalms. You will then give a word such as "peace" to the class. The first child to find a verse with the word "peace" in the book of Psalms, wins the points for their team. Before playing this game, you will want to teach the class how to look up a word in the concordance. Play until all 5 cards have been used.

Spellout!

– The teacher will reach into a bucket of Bible Book Cards and pick out a book that a child must spell correctly in order to get the points.

Find 5!

– Lay out 10 to 20 Bible Book Cards on a table. Let it be a mixture of Old Testament and New Testament cards. On the word "Go", have a child find 5 books from the Old Testament within 30 seconds. He will earn the points on each card that he successfully picks. Next time, have the child find 5 books in the New Testament.
Before or After

– Fan out 5 Bible Book Cards in your hand. Have a child come pick a card. He must then give the name of the book that comes before and after in order to earn the points for his team.
If points are involved in a game, I usually have a child from the class come forward and be my scorekeeper. Have fun!
If you liked this Sunday School/Homeschooling idea, then sign up to receive Scripture Lady's Free Email Kid Tips packed full with creative ideas and receive 6 FREE Bible Review Games to help get the kids you minister to excited about the Bible! Just go to www.MyFreeBibleGames.com to fully subscribe.
Also, don't forget to "LIKE" me on Facebook. Just click on my Facebook logo to the right. Thank you!
If you're into Twitter, click on the cute little bird!
"To Him who loves us and has freed us from our sins by His blood be all the glory and the power forever. Amen!"
Revelation 1:5-6
(Click here for a sample of this Bible verse song.)