Dads in the Bible is a Scripture Lady online virtual program for young children ages 4 to 8 that teaches about different dads in the Bible!
Dads in the Bible will help your kids learn about some dads in the Bible such as Adam, Noah, Abraham, Isaac, Jacob and King David. It's always good to take time and celebrate the dads and grandpas and uncles in our lives because of their love for us. Whether it's Father's Day or not, we should make sure that we show our dads that we love them!
During this program, your kids will learn:
– There are dads in the Bible such as Adam, Noah, Abraham, Isaac, Jacob and King David.
– God has given every dad a special job to do – to love and care for their children.
– Some dads have lots of children such as Jacob in the Bible who had 12 sons!
– God wants each child to grow up to be a good dad or mom who teaches their kids the stories of the Bible.
– God is our Father and gives us good gifts, like every good father should.
– God protects us and takes care of us because He is our loving Father.
FOR 24 HOURS ONLY, (Ends 8am on 6-25-20 PST)
you will have FREE access to this program. You will be able download it and call it your own.
I am sorry you missed out on the FREE access to my new online virtual Bible program called "Dads in the Bible."
This program will now move to my shop at ScriptureLadyShop.com.
As a consolation, I am giving away one of the videos for FREE.
Here is a sample of my song called "Teach Your Kids the Bible":
Click HERE for the complete and FREE download of this video. The password for this video is: TeachKidsBibleSong
If you haven't done so already, make sure you sign up to receive news about my next Bible Time Program. I will always give FREE access for the first 24 hours of its debut. But you must sign up so as not to miss the FREE opportunity.
By the way, when you sign up by clicking on the Green Button below, you will receive my very first online program for FREE called "God Gives Me Power!"
So, don't delay, sign up today!
But to do so, you must sign up for the program by clicking on the green button below, if you haven't done so already.
In order to get this FREE program, you will need to click on this big green button below.
Click HERE to Sign Up for Your FREE Bible Time Program
Here are sample videos giving you a sneak peak of all the creative ways that your kids will learn about some dads in the Bible:
The Dads in the Bible Song
This fun singing game will introduce your children to 6 very important dads in the Bible: Adam, Noah, Abraham, Isaac, Jacob and King David.
Pollyanne Sings a Song About Her Dad
The Scripture Lady's cousin, Pollyanne, had a dad who was a carpenter, just like Joseph, Jesus' earthly father. In this fun sining game, Pollyanne will help the children learn about some of the tools her dad used in his carpenter's shop to create beautiful things.
Jacob Had Twelve Sons
"Jacob Had Twelve Sons" is a song that will teach your children the names of the 12 sons of Jacob in the Bible. Jacob will visit the children through The Scripture Lady's Talking Bible Story Board and will be invited to sing along with this wonderful Patriarch of our faith in God.
Teach the Bible to Your Kids Song
"Teach the Bible to Your Kids" will be a song that reminds your kids that when they grow up to be a dad or mom they should teach their kids the Bible. Every good parent should share the love of Jesus with all their children!
The Not-So-Empty Grocery Bag Bible Object Lesson
The Not-So-Empty Grocery Bag is a fun Bible object lesson that will teach your kids that God is a good Father and will always give good gifts to them. This fun lesson is based on Matthew 7:9-11.
Scooter Gives Tips on Loving Dad
Scooter gives the children tips on how to love their dad. From bringing their dad his slippers to giving him sloppy kisses, Scooter will have your kids giggling over these fun-filled tips.
Jack and Jill Sing God is Your Father
Jack and Jill are learning that God is their Father, Protector and Provider in any and every scary situation. Have your kids sing along with this fun brother and sister duo to learn these truths, too!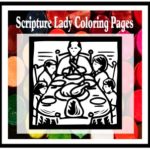 A Coloring Page Sharing God's Good Gifts
This coloring page will remind your children of several good gifts that God the Father gives to His children.
If you liked this idea of the "Dads in the Bible" Bible Time Program, then sign up to receive Scripture Lady's Free Email Kid Tips packed full with creative ideas and receive 12 FREE Bible downloadable resources to help get the kids you minister to excited about the Bible! Just go to www.MyFreeBibleGames.com to fully subscribe.
Also, don't forget to "LIKE" me on Facebook. Thank you!