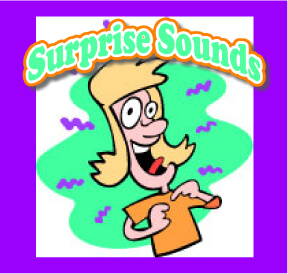 The Scripture Lady loves creating Bible memory verse games! Here is one called "Surprise Sounds" to make memorizing Scripture fun.
As a Sunday School teacher, I am always looking for new and creative ways for kids to learn their Bible verses. Here is one of my very favorite memory verse games. I call it "Surprise Sounds" and it is sure to become one of your kids' favorites as well.
Bible memory verse games will help your children hide God's Word in their hearts and for this one you will need to do the following:
First of all, this Bible memory verse activity can be used with both preschoolers and elementary aged children. Here is how it works. Simply take any Bible verse you are working on, such as John 3:16, and begin reciting it by using many different kinds of voices. Here is a list I have come up with:…
1. Say it like Mickey (or Minnie) Mouse.
2. Say it in an English accent. (Chip – Chip – Cheerio!)
3. Say it with a whisper.
4. Say it like you're afraid.
5. Say it really, really fast.
6. Say it really, really slow.
7. Say it like you're really tired. (Yawn, yawn.)
8. Say it like you're an opera diva. (Or should I say, "Sing it"?)
9. Say it like you have a cold. (Ahh-choo!)
10. Say it while laughing.
11. Say it while crying.
12. Say it with a New York accent.
13. Say it with a really high-pitched voice.
14. Say it with really low-pitched voice.
15. Say it like you're shivering cold. (Brrrrr)
16. Say it like you're deathly thirsty.
17. Say it with the hiccups.
18. Say it like you're a 007 spy.
19. Say it while holding your bottom lip.
20. Shout it out to the Lord!
There you go! Twenty great and fun ways to help you and your kids memorize God's amazing Word.
Just in case you're interested, you might want to check out this book with even more Bible lessons for your kids: Memory Verse Games for Kids (Take Me Through the Bible Series)
If you liked this Sunday School/Homeschooling idea, then sign up to receive Scripture Lady's Free Email Kid Tips packed full with creative ideas and receive 6 FREE Bible Review Games to help get the kids you minister to excited about the Bible! Just go to www.MyFreeBibleGames.com to fully subscribe.
Also, don't forget to "LIKE" me on Facebook. Just click on my Facebook logo to the right. Thank you!
If you're into Twitter, click on the cute little bird!

"Search me, God, and know my heart; test me and know my anxious thoughts."
Psalm 139:23