The Scripture Lady was LIVE in New York City!
On Saturday, September 9th and 10th, 2017, as The Scripture Lady I had the awesome privilege of sharing how to creatively teach the Bible to children at the Glory of Christ Church in Bronx, NY. On Saturday, I was able to share 2 of my teacher training workshops with 23 Sunday School teachers from the local NYC area.
The workshops I presented were:
How to Have a Dynamic and Disciplined Classroom AND
5 Ways to Make Sunday School the BEST Time of the Week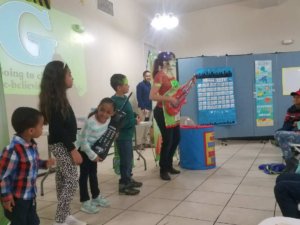 During the first workshop, I had the opportunity to share my top 3 philosophies for the success of any children's ministry:
Be Prepared
Use Great Visuals AND
Set Simple Boundaries for Discipline and Order



My second workshop was dedicated to my favorite 5 ways for creatively sharing the Bible to preschool through elementary ages. Here are my top 5 ways:
The teachers were hungry for some new and creative ways to share the Bible and I felt very blessed to "feed" them with some fresh ideas.



Here are just a few of the comments from the teachers:
Pastor Raymond – "We want to have you back again, Kathy!"
Emily D. – "I couldn't stop smiling from the beginning to the end! Kathy is filled with joy for the Lord and children's ministry."
Yeny R. – "You have been such a great blessing to our children's ministry!"
Pastor Ruth – "It was a divine appointment that God had us come to this event. We look forward to having you share at OUR church!"
Sunday morning was all about the kids! I had such a great time sharing my "Let's GROW in God" program with the children of Glory of Christ Church. The kids stayed engaged and were lively during all the songs, games and magic tricks.
But the best part of Sunday morning was seeing almost all the children come forward to accept Jesus as their Lord and Savior during the altar call. Afterwards, one of the boys came up to me and said, "Thank you for helping me become a Christian!"
Wow! Those words will stay in my heart for many years to come.
Did you know that you can host your own "Scripture Lady Event?"
I would love to come to your church and share my workshops with your teachers and my musical programs with your children.
Hosting a "Scripture Lady Event" is probably easier than you think. I will walk you through all the details and do everything I can to make your event successful and inspirational to all who attend.
So email me today at thescripturelady@gmail.com and let's get rolling toward a great children's ministry event!
Would you like a LOT of Bible Verse Songs to help
teach your kids about God's goodness?
Then check out The Scripture Lady's
"75 Downloadable Bible Verse Songs Package"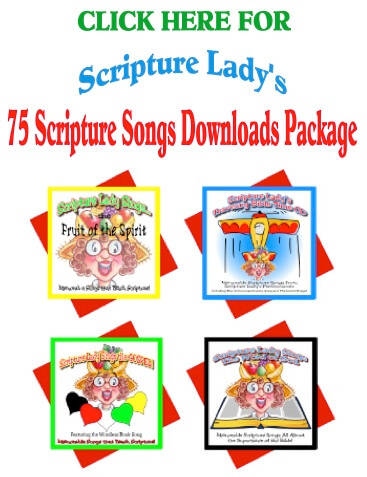 If you liked this Sunday School/Homeschooling idea, then sign up to receive Scripture Lady's Free Email Kid Tips packed full with creative ideas and receive 12 FREE Bible downloadable resources to help get the kids you minister to excited about the Bible! Just go to www.MyFreeBibleGames.com to fully subscribe.
Also, don't forget to "LIKE" me on Facebook. Just click on my Facebook logo to the right. Thank you!