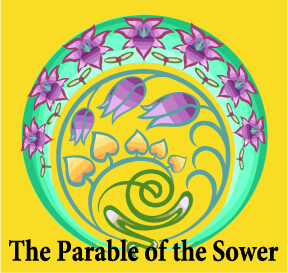 The Scripture Lady loves creating Bible story games! Here is one to help your kids learn the parable of the sower.
I love the Parable of the Sower  (Luke 8: 4-15).  It is a rich visual picture of how needful it is for each one of us to let God's Word "take root" in our lives.  Here's a Bible activity to help our kids learn how important this principle is for their lives as well.
Bible story games will help your children learn God's wonderful stories in a fun way and for this one you will need to do the following:
Create a large picture of a path, bulletin board style, maybe on a large wall you have in your classroom or room in your house.  To one side of the picture place a bird in the sky to be a reminder of verse 5 where the birds came and ate some of the seed sown by the farmer.  Also include some rocks to remind you of verse 6 where the rocks can keep some seed from getting the moisture they need.  Next, place some thorns along the way to be a warning of verse 7 where plants can be choked and die.  Finally, for the rest of the picture, leave enough room to create a flower for each of your children with the ability to see each flower's roots below the path.
For the next month, have the children work hard at recognizing the different ways they are "taking root" in the Lord.  For example they might share with you that they read their Bible every day last week, or maybe they helped Mom or Dad without being asked, or they found themselves saying, "No", to doing something wrong.  For each of the different ways they mention, draw an extra root on their flower below the path.  After a month, each of your children should see how strong they have grown in the Lord by seeing all of the dangling roots.  Remind them that a plant with many roots is a healthy and strong plant.  Luke 8: 15 says it best: "But the seed on good soil stands for those with a noble and good heart, who hear the word, retain it, and by persevering produce a crop."
May we all have noble and good hearts and produce wonderful crops!
Here is my version of the picture I have described.
Just in case you're interested, you might want to check out this book with even more Lessons on the Parables for your kids: Sharable Parables: Creative Storytelling Ideas for Ages 3-12 (The Steven James Storytelling Library)
If you liked this Sunday School/Homeschooling idea, then sign up to receive Scripture Lady's Free Email Kid Tips packed full with creative ideas and receive 6 FREE Bible Review Games to help get the kids you minister to excited about the Bible! Just go to www.MyFreeBibleGames.com to fully subscribe.
Also, don't forget to "LIKE" me on Facebook. Just click on my Facebook logo to the right. Thank you!
If you're into Twitter, click on the cute little bird!