Teaching about different families in the Bible for preschoolers is a great way to help introduce them to many of the main Bible characters. In this "LIVE" performance at one of the preschools I often share at, the children are learning about Adam and Eve and their 2 sons along with 4 other families.
In this creative idea for sharing about families in the Bible for preschoolers, I use one of my favorite storytelling tools – my "Bible Story Book." I created this special "book" from one of those "table topper" boxes that are popular right now that have the shape and feel of a large book. But when you open the "book" up, it's just an empty space where you can hide things away.
I turned by "book" into a "Bible Story Book." Then I added some felt pictures that I already had to give it the look of a Bible "scene."
Next, I selected 5 different families in the Bible:
1. Adam and Eve with Cain and Abel
2. Noah and His Sons
3. Abraham and Sarah with their Son Isaac
4. Joseph and His Brothers
5. Mary and Joseph with Jesus
I found two pictures for each of the families. One picture shows the parent(s) and the other picture shows the children.
Then, as you can see from the video, I invited one child to come up and find the matching pairs of family members.
Try it yourself with your own preschoolers to help them learn how important the Word of God is.
Click on the following link to learn more about how to use my "Bible Story Book": http://scripturelady.com/how-to-tell-a-bible-story-the-bible-story-book/
Would you like a LOT of Bible Verse Songs to help your kids grow in their relationship with Jesus?
Then check out The Scripture Lady's "75 Downloadable Bible Verse Songs Package" for ONLY $9.95!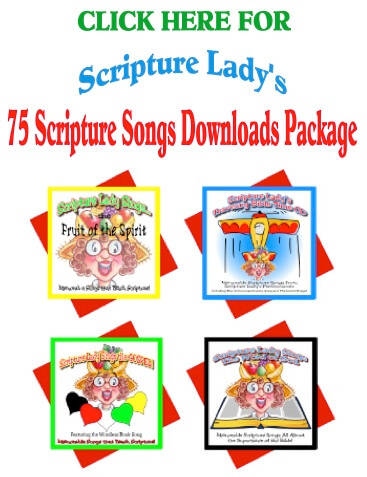 If you liked this Sunday School/Homeschooling idea, then sign up to receive Scripture Lady's Free Email Kid Tips packed full with creative ideas and receive 12 FREE Bible downloadable resources to help get the kids you minister to excited about the Bible! Just go to www.MyFreeBibleGames.com to fully subscribe.
Also, don't forget to "LIKE" me on Facebook.