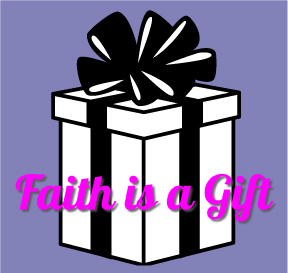 Why is it that we humans have such a hard time accepting God's salvation as a free gift?  Even after many of us come to the Lord as our Savior, we still try to earn it by our works.  Ephesians 2:8-9 says this: "For it is by grace you have been saved, through faith—and this not from yourselves, it is the gift of God— not by works, so that no one can boast."  Faith is a gift.  Not just any gift.  It is the gift of God, because there is NO WAY on earth, under earth or over earth we could ever do good enough or be good enough to earn our salvation.  And I, for one, am thankful for this truth.  Our kids need to grasp this truth as well and memorizing this Scripture is a perfect place to start.   Here is a fun Bible activity to help your kids keep this special verse in their hearts and mind.
Here's what to do:
For this activity you will need to prepare 12 envelopes.  On the outside of the envelopes, write the following portions of Ephesians 2:8-9:
For by grace
You have
Been saved
Through faith
And that
Not of yourself;
It is the gift
Of God
Not of works
Lest anyone
Should boast
Ephesians 2:8-9
Each envelope will contain one of the following cards:
Gift Card worth 50 points
Gift Card worth 75 points
Gift Card worth 100 points
Gift Card worth 100 points
Works Card – do 10 jumping jacks worth 10 points
Works Card – do 10 pushups worth 15 points
Works Card – do10 lunges worth 20 points
Works Card – do 10 knee lifts worth 25 points
Works Card – turn in place for 20 seconds worth 30 points
Works Card – stand on one foot for 20 seconds worth 35 points
Works Card – do 10 arm lifts to the side worth 40 points
Works Card – hop in place for 20 seconds worth 45 points
Place all the envelopes on a pocket chart or table in correct verse order.  You are now ready to play the game.
How to play:
Divide your class into 2 teams.  Decide who will go first.  The team who goes first does have a small advantage.  Have a child from Team One come forward and say the Bible verse.  Then ask him to point to one of the envelopes. You, the teacher, will take the envelope and reveal the card inside.  If the card is a gift, then his team earns the points listed freely.  After each student plays, say "Faith is a free gift!"  If the child picks a "Works" card, he must perform the task listed in order to earn the points.  You, the teacher, will return the card to its place, but face down- no words showing.  The next child comes up from Team 2 and now must say the verse including the missing portion.  If he says it correctly, he gets to point to an envelope and follow the same rules as already mentioned.  As the envelopes are turned over, the game gets harder.  The team with the most points at the end of the game is the winner.
Before playing, you might want to introduce the lesson in the following way:
Who would like to read Ephesians 2 :8-9?  (Wait for response.)  Who can tell me what faith is?  In a nutshell, faith means believing in God even though you can't see Him.  You trust Him with your whole life. You especially trust that by His death on the cross you are saved from the punishment of your sins.  Our verse says that faith is a free gift.  You cannot earn God's salvation by being good or doing good.  Your "works" can never be good enough.  This is a very important truth to learn and Ephesians 2:8-9 is the perfect place to start.  Let's play a fun Bible memory verse activity to help us memorize this special verse.  It's called "Faith is a Gift."
Just in case you're interested, you might want to check out this book with even more Bible lessons for your kids: Big Book of Bible Lessons for Crafty Kids (Big Books)
If you liked this Sunday School/Homeschooling idea, then sign up to receive Scripture Lady's Free Email Kid Tips packed full with creative ideas and receive 6 FREE Bible Review Games to help get the kids you minister to excited about the Bible! Just go to www.MyFreeBibleGames.com to fully subscribe.
Also, don't forget to "LIKE" me on Facebook. Just click on my Facebook logo to the right. Thank you!
If you're into Twitter, click on the cute little bird!